Birds of Oklahoma
---
Butterflies of Oklahoma
---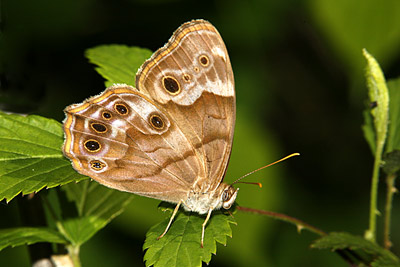 Southern Pearly Eye (Enodia portlandia)
| | | | | | |
| --- | --- | --- | --- | --- | --- |
| County | State | Date | | | |
| McCurtain | OK | 04/2007 | | | |
Wing span: 2 3/16 - 2 3/4 inches (5.6 -7 cm).

Identification: Antennal clubs are orange. Upperside is brown with dark eyespots at the margins. Underside is light brown; submarginal row of 4 spots (Florida females may have 5) on forewing is slightly curved and brown line inside this spot row is straight or zigzagged. Spots are encircled by diffuse white.

Life history: Males perch on tree trunks, sometimes head downward, to wait for females. Eggs are laid singly on or near the host plant; caterpillars feed on leaves. Older caterpillars hibernate.

Flight: Three broods from March-October.

Caterpillar hosts: Bamboo switch cane (A. tecta).

Adult food: Sap, rotting fruit, carrion, dung.

Habitat: Shady, damp woods near stream-fed swamps.

Range: Eastern Oklahoma and eastern Texas east through the southeastern United States.



---
Home
About this site
My links Raising Bluebirds
Photo Gallery
Featured guest page